Touring in Israel in times of Coronavirus (Covid19)
Is it possible or safe to tour Israel while the world is under attack of Covid19?
Current situation in Israel with relation to Covid19
This information is up to date to April 18th, 2021, Israel is back to normal in 80.4%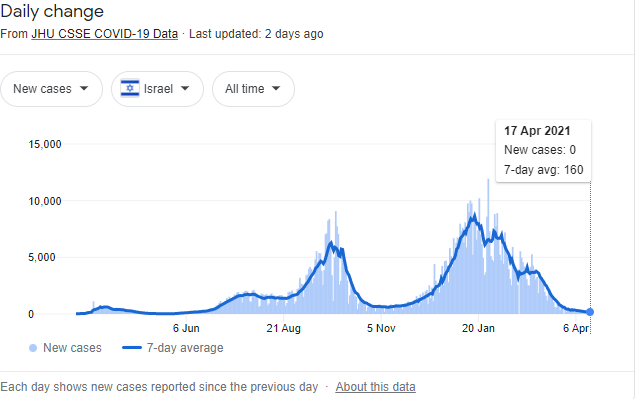 Current update
Starting from May 23rd passengers who recovered from COVID19 or were vaccinated can travel to Israel.  They must present a negative COVID-19 PCR test result to airline staff. The test must be taken within 72 hours prior to the sceduled departure to Israel.
For latest health news in Israel
The greatest news are that Israel started vaccination of general population.
As of April 18th,  61.7% of the population all ready got the first dose of Pfizer (53% of the population got the second dose). vaccinating is now available for any age group from 16 years old.
As the concern of the new highly infection mutation increases Israel decides to close it's borders and only allow humanitarian returning flights for Israelis in. Starting from May 23rd Israel will allow in passengers who recovered from COVID19 or were vaccinated. They will need to present a negative COVID-19 PCR test result to airline staff.
Updates on current limitations can be seen here
---
It appears like Israel was one of the first countries to experience the "second waves" of covid19 and the first one to go out of it, as a result of the strict lockdown.
Many countries in Europe are now experiencing  increase number of cases and are imposing more and more limitation and maybe a total lockdown is ahead.
You can clearly see on the diagram how number of cases in Israel is dropping down as a result of the strict lockdown. For the past 2 weeks kindergartens are open and elementary schools are about to be open on Nov 1. We now understand that the opening after the first lockdown was too fast and 2 weeks period of time should be between every step of removing limitations. In the next month we will see if numbers of cases will raise as a result of opening schools and if so, limitations will take place once again.
From tourism perspective: Israeli ministry of tourism along with the representative of the tourism companies put together a protocol for reopening tourism in Israel. This protocol is on hold and the minute it will approve we will share it and guide passengers who wish to visit Israel. As per Nov 1st unfortunately entering to Israel for tourism is not easy and most arrivals will be submitted to quarantine of 14 days: Inbound passenger clearance
Encouraging news from around the world regarding the advance stages of the vaccine put Israel as one of the first countries in line to get it and we are expected to get it in the next 6 months. Israel also have its own vaccine development and that makes as very proud! More about the Israeli vaccine you can read here, but we can tell you that Nov 1st is the beginning of human experiments (stage 1) and its du to be completed in July 2021.
introduction
On March 10th, while having 50 cases of Coronavirus, Israeli government order a quarantine of 14 days to all passengers entering Israel. This regulation, basically shot down the country's borders and isolated the country from the rest of the world.
This act as dramatic it was, led to the result that during the next two months Israeli hospitals were able to give good care to the infected patients and to keep the numbers of infected people low.
By the end of May all education system returned as well as all working places, national parks and public transportation.
During June Israel is back to normal in about 65%. That means that most business, schools, beaches, parks, hotels, restaurants are open and the only limitations we have are regarding gatherings. Gathering of more than 50 people in closed places is forbidden.
All people must cover their mouth and nose using masks and keep a social distance of 2 meters apart.
Since during May and June the public was not under lock down anymore a natural increase in cases of Covid 19 started appearing in more places. nevertheless the number of patients that are under the support of breathing machine remains very low and most infected people are at their homes.
On august number of new confirmed cases raised from around 700 per day at the beginning of the month to 2000 per day at the end of the month. The increase in the number of new cases led the movement to decide on new measures and restrictions. Nevertheless the numbers kept increasing especially with the pupils going back to school on Sep 1st. at the end of Sep number of new confirmed cases reached 8000 per day, unfortunately one the highest in the world in relation to the size of the population.
This dramatic increase in the number of new cases resulted increase in the number of severe cases and deaths (until Oct 6 – 895 severe cases and 1771 deaths total).
During the Jewish holidays mid Sep the Israeli government declared on more restrictions, limitations and practically a second Lockdown.
When this lockdown will be over we are offering a private live zoom tours in Israel that enables you to travel with a professional Israeli tour guide in Jerusalem or any other site in real time online.
Is it possible or safe to tour Israel today?
As mentioned earlier- Israeli regulations allow free movement as long as you obey the 2 rules (masks, social distance).
Nevertheless at the moment (July 5th), passengers entering Israel are still obligated to have a place where they can quarantine themselves for 14 day before being able to go out and tour.
If passengers are interested in arriving to Israel and they are able to find a way to arrive, as air tickets are very limited and not from all destinations. We are willing to help them find  a place of quarantine for 14 days in symbolic cost.
Israeli Guide ltd follows all the regulation and instructions given by the Israeli health authorities, assuring our clients an enjoyable tour in Israel with minimizing the risks of being effected by the virus.
How do we minimize the risks?
On our tour packages we will book you accommodation that will guarantee your health safety. Hotels that have received Government approval that they follow strict health rule.
To clients that wish we can provide an ideal accommodation for the situation, an independent apartment at any location in Israel. This way there will be almost 0 contact with other people like in hotels.
Excursions are private and take you out to the open. Combining in our tours maximum time visiting national parks and open areas we will avoid any crowd and risk.
Our means of transportation are equipped with sanitizer gel and go through a daily disinfection.
Our drivers and tour guides will measure body temperature on a daily base as well as the passengers
Zoom private LIVE tours
A real professional tour guide in Israel will take you on a private tour in video confrance using zoom or other app to see the holy land